Before we're even over Christmas, it's straight into Valentine's Day shopping mode. Whether you shower your significant other with gifts, go for a cosy meal, or just chill on the sofa, giving them a personalised gift on the special day is a sure-fire way to show them how much they mean to you. After all, you've taken the time to pick out a favourite photo or quote. Whether you're looking for a heartfelt gift or something to make them laugh, we've got the perfect selection of gifts for you. Here are 7 of our favourite:
A staple of our range, popular year after year and not just for Valentine's Day. Perfect for those that like to keep it simple and give something heartfelt yet useful.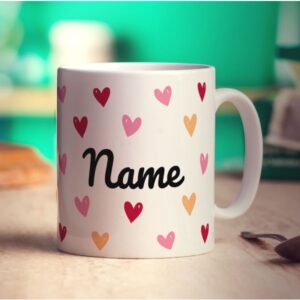 Fairly new to our range, our set of 12 photo magnets have an average rating of 4.9/5 stars from our customers! Pick 12 of your favourite photos and showcase them on the fridge for all to see.
Just launched, but one of our favourite keyring designs. You can now pick 2 of your best memories to carry around wherever you go.
Who says you can't buy socks as a gift?! For these brilliant socks, we'll cut out your loved one's face and plaster them all over the socks along with a collection of love hearts. Perfect!
Already got them the perfect gift? Then this is for  you. Wrap their gift up in their very own personalised wrapping paper. You can even add matching gift tags!
Now this is cool. You can upload any photo and we'll print it on this sequin reveal cushion – just brush to reveal or hide the photo. They're super comfy too!
Take our standard photo coaster one step further and print one of your favourite photos on our hearts coaster. Not only will one of your favourite memories be on your coffee table or desk for years to come, you'll also be protecting your surfaces. Winner!