Struggling to find him the perfect Valentine's Day gift? Don't worry, we at Printster have got you covered and we know that he'll love our personalised gifts as much as we do! We've searched far and wide for the perfect presents so you don't have to. Excited? Well, let's take a look at our top 7 personalised Valentine's Day gifts for him…
SHOP ALL VALENTINE'S GIFTS FOR HIM
#1 Heart Name Mug – Our best selling Valentine's gift is a staple for any couple's cupboard.
Straight in at number one, our Heart Name Mug. This particular mug has been a firm favourite amongst our customers for an extremely long time. It's low price, high quality and easiness for you to create means we've taken all the stress out of purchasing – that's right, no more tearing your beautiful hair out! Add this to your cart and he'll add you to his heart.
#2 In Your Face Socks – Perfect for the man who can't stop looking in the mirror!
The perfect Valentine's gift for the man who loves himself more than you, In Your Face Socks let you let him remind himself of his beauty every time he sees his feet. Simply upload a photo of his face and we'll replicate it all over his new socks. How good is that?!
#3 Personalised Keyrings – Keep your memoires next to your keys.
What are we always losing? Yep, that's right, our keys. Well, with our personalised keyrings you can make sure that your man doesn't lose his again! Upload a special picture to our website and we'll make the perfect keyring for his abundance of keys. He'll never dare lose such a beautiful gift and he'll always be reminded of the memories in that picture even when he's not home.
#4 Personalised Photo Coasters – Keep calm and keep that coffee table clean!
Don't you just hate it when he leaves his mug on your pristine coffee table? With our customisable photo coaster, this will be a thing of the past. Choose your favourite photo, upload it to our website then sit back and marvel at your masterpiece on screen. There'll be no more unsightly marks and stains so no more tension when you're watching Strictly together – yes, I know, he secretly loves it doesn't he?!
SHOP PERSONALISED PHOTO COASTERS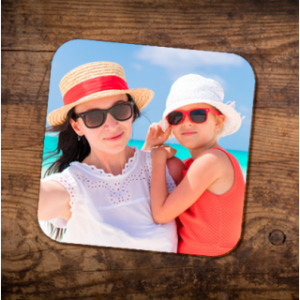 #5 Magic Sequin Photo Cushion – One of our newest favourites…
Worried he's getting lonely when you're out with friends? Why not gift him something to cuddle up with. You can personalise it with a favourite photo, memory or even your face on it so he'll never feel alone again. Sometimes even our warriors need something to cuddle up to – they're just big teddy bears really!
SHOP MAGIC SEQUIN PHOTO CUSHIONS
#6 Awesome Mugs – A mug for every type of man
A Valentine's Day classic, choose from either boyfriend, husband, fiancé, lover. With no customisation needed, this is our easiest product to order! Every time he stakes a sip, he'll be reminded that he's truly awesome and even better, it's printed on both sides so everyone around him will see how awesome he is too.
#7 Stitch Heart Photo Wrapping Paper – Our cute, customisable paper is sure to bring a smile to his face.
You've chosen your gift and now you want to wrap it but you don't want to wrap it in any old paper. If only there was a way that you could get wrapping paper with yours and his photo on. Well, luckily for you we've thought of that and once again, we've made it soooooo easy! Just find a photo of the two of you, upload it to our website and we'll do the rest.
SHOP STITCH HEART WRAPPING PAPER