As we're a friendly bunch here at Printster, we thought that it was about time you got to know us better. And now here's your chance in our regular Meet the Team blogs.
First up it's time to meet our lovely, talented Online Design and Marketing Assistant, Dulcie Price, who's been in the Printster team for almost a year and a half.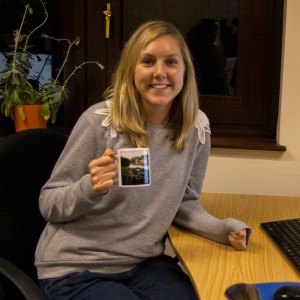 What did you do before Printster?
I studied illustration and Graphic design at De Montfort University in Leicester. When I moved to Bristol I worked for the National Apprenticeships Service before I got this job.
What does your role involve?
Loads of stuff, everything from designing new mugs, photographing products, putting new items on the website and designing marketing materials.
What do you like best about working at Printster?
I really love the variation in my job role – I get to do lots of different things. (I enjoy our team table football games too!)
What's your favourite film?
I'm not sure I can just pick one… but Into the Wild is one of my favourite films.
Show us your mug
I actually have a few mugs that I use! But my favourite is a double sided photo mug with a pic I took of my bike in front of the Clifton suspension bridge in Bristol. I love being able to look at that photo whenever I drink my tea!
What's your snack of choice at tea/coffee break?
As much as I'd like to be able to say I snack on fruit and nuts that would be a lie. I'm going to have to go with hula hoops!
What's the best piece of advice you've been given?
I guess it would just be that it's all about the now. There's no point dwelling on the past or worrying about the future. Make the most of today.
What do you love to do at the weekend?
I mainly look forward to the weekends to hang out with my great bunch of friends! Whether that means going for walks, bike rides, sitting and chatting or going to the local.
What makes you smile?
Lots of things make me smile – my family, friends, Glastonbury Festival, beating the boss at table football… just to name a few.
Thanks Dulcie! Look out for more Meet the Team blogs coming soon…